How election day might affect the US markets
Content by Fineco's partner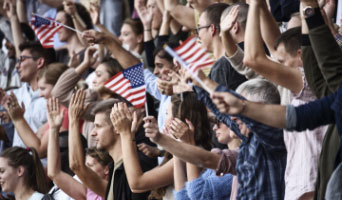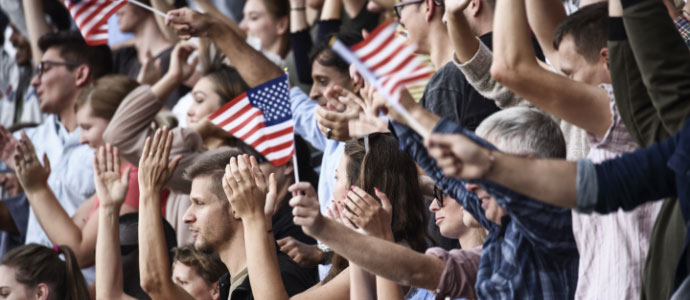 The elections on 3 November will influence US stock market performance in the coming months as Trump and Biden's contrasting policies favour different sectors. A disputed result is possible, which may trigger significant short-term volatility.
US Presidential Election Market volatility Investment opportunities US markets
It would be easy to forget that there is more than one election happening on 3 November this year. Aside from the presidential election, there are also elections for the Senate and the House of Representatives. The outcome in all of these elections will influence how stock markets behave over the next few months.
As it stands, it looks unlikely that the Republicans can take the Senate, so the three likely outcomes are the Republicans winning the Presidency but not the Senate; the Democrats winning the Presidency but not the Senate; and finally, Democrats winning the Presidency and the Senate.
If either side win the House and the Presidency it will give them a far stronger hand to implement their policies and markets are likely to react accordingly. If the result is disputed, all bets are off and markets may show significant volatility.
What history tells us
In broad brush terms, it might be expected that a Republican would be a better option for stock markets. They are generally pro-business, in favour of lower taxes and regulation. Markets tend to make short-term gains in the wake of a Republican victory. For example, , it looks unlikely that the Republicans can take the Senate. However, recent research from UK investment bank Liberum has shown that longer-term the S&P 500 tends to do better under Democratic presidents, delivering an annual return of 10.8% versus 5.6% under Republican presidents. This is partly explained by the Global Financial Crisis and Covid-19 pandemic, which happened under Republican presidents, but even taking this into account, the stock market has been stronger under Democrats.
Liberum suggests that while corporate and income tax cuts have an immediate stimulus effect on the economy, it tends to be short-lived. Democrat policies such as infrastructure spending and increases in welfare tend to have a longer-term impact and the 'multiplier' effect on the economy is greater.
The current battlegrounds
This election has been relatively light on policy, but there are a few key areas of focus for both parties:
The main reason for this change is simply the 'Icarus' argument – valuations were too high. Earnings have been strong, but the technology sector has seen a meaningful re-rating in the last year. The price to earnings ratio for Apple, for example, has more than doubled over the past 12 months.
Taxes: Joe Biden plans to raise taxes on individuals and corporations. He plans to reverse some of President Trump's corporation tax cuts, taking the standard rate from 21% to 28%. He has also said he will raise taxes on individuals with income above $400,000.
The Trump campaign has been light on detail for his tax policy. He has said he will support middle class tax cuts and has mentioned tax credits for companies that bring jobs back into the US from abroad. He also plans to expand his 'Opportunity Zones', providing tax incentives for individuals and businesses.
Big technology: Trump is expected to increase scrutiny of the sector. This may mean tackling anti-competitive practices, more regulation and stronger privacy rules. In fact, both candidates are pursuing anti-trust legislation, as well as taking steps to increase competition in digital markets.
Fiscal policy: While talks seem to have resumed on a fiscal stimulus package to help mitigate the effects of Covid-19, Joe Biden has put more expansive fiscal policies on the table. Economic analysis from Moody's Analytics says this should mean a return to full employment more quickly than under Trump. The report suggests the economy would return to full employment in the second half of 2022 under Biden compared with the first half of 2024 under Trump: "Biden's reversal of Trump's policies on foreign trade and immigration would also contribute to stronger economic growth, so that by the end of their terms in 2024, real GDP would be $960 billion, or 4.5%, larger under Biden than Trump."
Other key sectors: Biden's plans to continue and expand Obamacare may curtail the pricing power of the larger pharmaceutical groups but may also mean more federal funding. He has mentioned re-entering the Paris Climate Accord and has also laid out an ambitious overhaul of the country's energy industry with the aim of achieving 100% emissions-free power by 2035. There is likely to be more continuity under Trump, though he is keen to get rid of Obamacare with a Supreme Court hearing scheduled for 10 November.
A disputed election could mean a period of volatility
Donald Trump has voiced doubt over the validity of postal voting and there are concerns some states may struggle to deal with the volumes due to Covid-19 as well as potential confusion around the verification requirements.
Should the result be contested, and is still unclear by 8 December, state legislators can take power into their own hands. Ultimately, it should be resolved, but the intervening period could see significant market volatility.
Volatility can bring trading opportunities. The Fineco trading platform contains a range of tools and options to let you explore trading volatility. You can trade worldwide, across a range of instruments and currencies; all from one account with competitive and transparent pricing.
Information or views expressed should not be taken as any kind of recommendation or forecast. All trading involves risks, losses can exceed deposits.
CFDs are complex instruments and come with a high risk of losing money rapidly due to leverage. 62.02% of retail investor accounts lose money when trading CFDs with this provider. You should consider whether you understand how CFDs work and whether you can afford to take the high risk of losing your money.
Before trading CFDs, please read carefully the Key Information Documents (KIDs) available on the website finecobank.co.uk
Fineco Newsroom is a compilation of articles written by our editorial partners. Fineco is not responsible for an article's content and its accuracy nor for the information contained in the online articles linked.
These articles are provided for information only, these are not intended to be personal recommendations on financial instruments, products or financial strategies.
If you're looking for this kind of information or support, you should seek advice from a qualified investment advisor.
Some of the articles you will find on the Newsroom feature data and information from past years. As per the very nature of the content we feature in this section of our website, some pieces of information provided might be not up to date and reliable anymore.
This advertising message is for promotional purposes only. To view all the terms and conditions for the advertised services, please refer to the fact sheets and documentation required under current regulations. All services require the client to open a Fineco current account. All products and services offered are dedicated to Fineco account.