Five themes for global economic growth
Content by Fineco's partner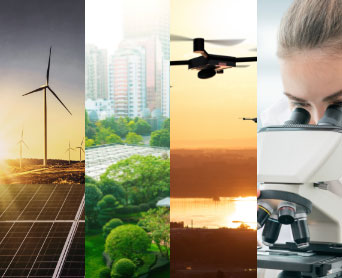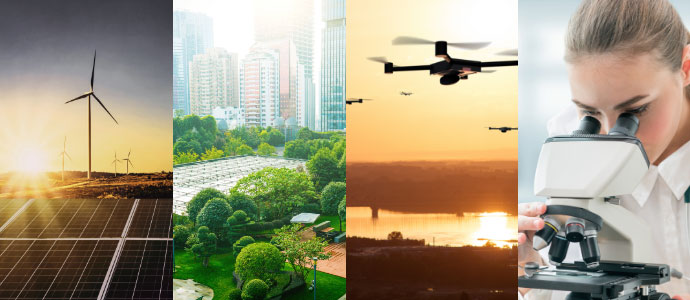 Major themes driving global economic growth include digital transformation, climate change, shifting consumer patterns, the ageing population and automation.
Global economic growth Major trends in the global economy Megatrends
Traders rely on price action. If no-one is interested in a stock, commodity or bond, there is limited scope for price movement on which to capitalise. Being aware of major structural trends that are influencing the fortunes of businesses and the global economy is one way for traders to help identify those products and services with more potential for that all-important price 'buzz'.
Five themes that many would see as falling into the structural trends category are: digital transformation, climate change, shifting consumption patterns, the ageing population and automation. Each has many sub-themes you could choose to dig in to: digitisation, for example, may include cloud computing, big data and artificial intelligence, while the ageing population could encompass healthcare or financial services.
Digital transformation
Digital transformation is where digital technologies are introduced to reshape business processes, culture, and customer experiences. This has been a well-established trend for a number of years as companies have recognised the competitive advantage and flexibility of moving their data into the cloud. The recent Covid-19 crisis may well accelerate adoption, having highlighted the importance of a digital presence for companies. Those without the ability to work remotely have struggled to remain competitive with companies that have invested in cloud computing and digital solutions. Areas such as artificial intelligence, big data and the Internet of Things could all sit under the digital transformation banner.
Climate change
The Intergovernmental Panel on Climate Change (IPCC), which includes more than 1,300 scientists from across the world, is currently forecasting a rise in temperatures of 2.5 to 10 degrees Fahrenheit over the next century. This has profound implications for weather patterns, crops and living conditions and has become a top priority for global governments and policymakers. US presidential candidate, Joe Biden, recently promised $2 trillion to help deal with climate problems. Companies that present potential solutions - green energy, waste recycling - are likely to garner attention from investors and traders.
Shifting consumption patterns
This is a vast area. Not only is there the drive to ecommerce, which is disrupting bricks and mortar retail and changing the way people buy, but there is also the explosive growth in the middle class in emerging markets. The number of households in emerging markets with an annual disposable income of US$45,000-$100,000 is set to rise by 5.6% per year on average until 2030. This new middle class has different wishes and needs: there is increasing demand for white goods, for example, financial services, even changing food patterns. Shrewd investors can observe the beneficiaries of these long-term trends.
The ageing population
Developed market populations are ageing. Across the globe, the expected longevity for people aged 65 has increased by five years since 1970, and it is projected to increase by an additional four years by 2060. Some countries, such as Japan and Italy, are ageing far faster. While this would seem to be good news, it brings challenges – increasing healthcare needs, high pension costs, government imbalances. Healthcare and biotechnology stocks have been in the news because of Covid-19, but ageing populations are likely to place long-term demands on the sector.
Automation
Automation includes cutting edge areas such as medical robotics, but also lower-key areas such as manufacturing efficiency. Ecommerce, for example, brings the need for 'smart' warehouses to improve storage and efficiency. Most companies recognise the importance of automating tedious and repetitive tasks. This saves money but should also reduce error rates. Automation will also incorporate artificial intelligence. These automation solutions are used across multiple sectors – from insurance to ecommerce to healthcare.
This list is not exhaustive but draws in many of the strongest structural themes in the global economy that are driving business success (or failure) today. These are the areas making headlines and should see plenty of interest for traders to exploit.
Whatever approach you take to identifying where the price action is likely to be, the Fineco platform lets you trade worldwide in a broad range of instruments, in local currencies and from a single account, with competitive and transparent pricing.
Information or views expressed should not be taken as any kind of recommendation or forecast. All trading involves risks, losses can exceed deposits.
CFDs are complex instruments and come with a high risk of losing money rapidly due to leverage. 63.13 % of retail investor accounts lose money when trading CFDs with this provider. You should consider whether you understand how CFDs work and whether you can afford to take the high risk of losing your money.
Before trading CFDs, please read carefully the Key Information Documents (KIDs) available on the website finecobank.co.uk
Fineco Newsroom is a compilation of articles written by our editorial partners. Fineco is not responsible for an article's content and its accuracy nor for the information contained in the online articles linked.
These articles are provided for information only, these are not intended to be personal recommendations on financial instruments, products or financial strategies.
If you're looking for this kind of information or support, you should seek advice from a qualified investment advisor.
Some of the articles you will find on the Newsroom feature data and information from past years. As per the very nature of the content we feature in this section of our website, some pieces of information provided might be not up to date and reliable anymore.
This advertising message is for promotional purposes only. To view all the terms and conditions for the advertised services, please refer to the fact sheets and documentation required under current regulations. All services require the client to open a Fineco current account. All products and services offered are dedicated to Fineco account.