How to choose the best investment app or platform?
Content by Fineco's partner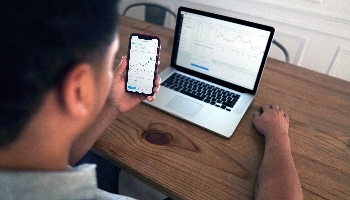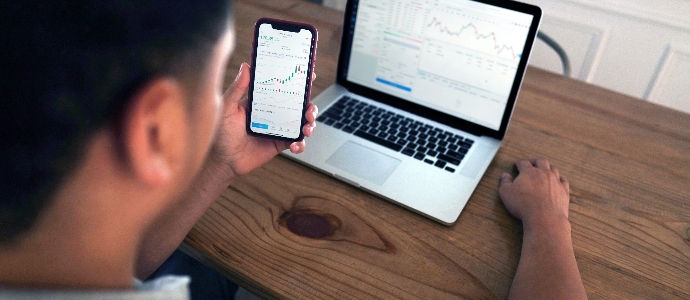 Deciding on what might be the best investment app for you, requires an understanding of your investment needs. Discover more on Fineco Newsroom.
Best investment appsHow to choose an investment platformHow to choose online brokerHow to choose a forex brokerHow to choose a trading platform
Finding the best investment app or platform for you
If it's time to get serious about investing you may be thinking about how to choose an investment or trading platform. The answers to some questions about how you invest and your priorities can help find the best option to upgrade your investing. One way to get more and pay less for your investing experience is to build a relationship with an investment platform or app that can last for the long-term. The question is how to choose an investment or trading platform that suits your needs today but is also agile enough to grow with you and adapt over time.
Being clear on what you want is the first step to upgrade your investing
Signing up with an investment platform is likely to be your first step when starting out in investing. They allow you to set up one or more of an ISA, GIA (general investing account) or a SIPP (self-invested personal pension) and from there, you can buy or sell shares, collective funds or exchange traded funds (ETFs)/investment trusts. They may also offer derivatives or commodities trading for expert investors. They operate a little like online banking, with investors able to sign in securely, transact and check their portfolios whenever and as often as they like.
Deciding on what might be the best investment app or platform for you, requires a decent understanding of your investment needs. You probably won't need a huge range of investment choices, perhaps just some basic collective funds or a range of managed portfolios.
However, if this is a relationship that's going to last a while – and most people will be investing for retirement, so can expect to be with a platform for several decades – it may be good to have the option to move into more sophisticated options at a later stage. That might be single stock investing, ETFs or trading options. While some platforms set out their stall as either trading or investment platforms, some – like Fineco – offer both.
You'll need to have some understanding of your financial goals and the level of risk you want to take. It helps to know how much you are likely to be investing and whether you'll be putting in a lump sum, investing regularly or both. Once you've established that, you can start to look at the different options.
Things to think about when choosing an investing platform or app
Technology – investment platforms are no different to other websites. Some are very clunky and difficult to use, while others are intuitive and easy to navigate. It's worth having a scout around before you commit to see whether you can find the information you need easily and quickly. Also, consulting user reviews on sites such as Trustpilot can give you some clues as to the pros and cons of each platform. If you're likely to transact mainly on your mobile, it's worth making sure there's a mobile optimised option or app available.
Investments – some investment platforms offer a broad choice, including collective funds, stocks and shares and ETFs, while others just offer a range of ready-made portfolios. If want a platform to do the heavy lifting for you, the latter may be a more straightforward option. However, if you want more choice – or think you might do in future – you may prefer a platform that allows more flexibility.
Help and support – no matter what your starting point, a platform should have the tools available to let you to work out the right level of investment risk and develop your knowledge. Does it offer educational tools, for example? How does it help you find the right strategy for you and manage your risks? Perhaps most importantly, if you need to speak to a real person, does it allow you to easily do so? Investing can be complex, being able to access clear information and get answers to your questions is vital.
Is the cost right? – this is not necessarily about which platform has the lowest fees, but whether the cost structure works for the way you want to invest. For example, investors with smaller portfolios may be better off with a fee based on a percentage of their assets, while those with larger funds might prefer fixed fees. If you're making regular investments into stocks and shares, ETFs or investment trusts, be alert to high transaction charges. Some platforms can charge £10-£20 per transaction, which could really eat into your fund over the longer-term.
Ancillary services – are you keen to have banking, investing and trading options through a single service? This may become more useful as your portfolio gets bigger. It can save you a lot of time and hassle to have everything in one place and can help you get a clearer picture of your overall wealth and progress towards your goals.
Currency option and charges – if you regularly invest globally or would like to start building a more international portfolio, you may want to look for a platform with a broad range of currency options and access to local exchange rates. If you're thinking about how to choose a forex (or foreign exchange) broker, this could save time and money. The effort you put into choosing an investment or trading platform should be rewarded. If you get it right, it could be the start of a successful long-term relationship. You can switch to a premium investing experience with the Fineco platform. It has a broad range of tools, services and investment options, with low pricing and no hidden fees.
Information or views expressed should not be taken as any kind of recommendation or forecast. All trading involves risks, losses can exceed deposits.
CFDs are complex instruments and come with a high risk of losing money rapidly due to leverage. 63.13 % of retail investor accounts lose money when trading CFDs with this provider. You should consider whether you understand how CFDs work and whether you can afford to take the high risk of losing your money.
Before trading CFDs, please read carefully the Key Information Documents (KIDs) available on the website finecobank.co.uk
Fineco Newsroom is a compilation of articles written by our editorial partners. Fineco is not responsible for an article's content and its accuracy nor for the information contained in the online articles linked.
These articles are provided for information only, these are not intended to be personal recommendations on financial instruments, products or financial strategies.
If you're looking for this kind of information or support, you should seek advice from a qualified investment advisor.
Some of the articles you will find on the Newsroom feature data and information from past years. As per the very nature of the content we feature in this section of our website, some pieces of information provided might be not up to date and reliable anymore.
This advertising message is for promotional purposes only. To view all the terms and conditions for the advertised services, please refer to the fact sheets and documentation required under current regulations. All services require the client to open a Fineco current account. All products and services offered are dedicated to Fineco account.