Most volatile cryptocurrency in 2022
Content by Fineco's partner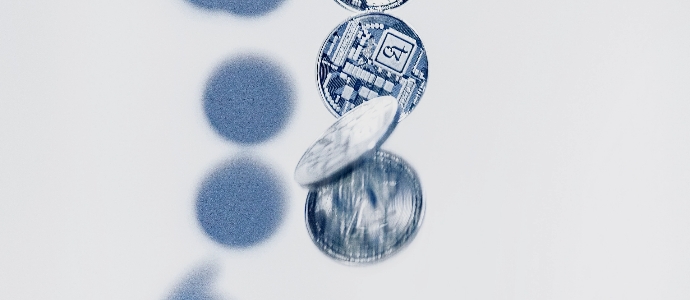 Which is the most volatile crypto right now? Discover more about cryptocurrencies and volatility on Fineco's Newsroom.
Most volatile cryptocurrencyBitcoin volatilityCrypto volatility index
Which crypto is the most volatile in 2022?
Cryptocurrencies are very volatile assets whose price fluctuates considerably every day. This aspect makes investing long-term difficult, but at the same time can offer more short-term investment opportunities. Let's look at which cryptocurrency is the most volatile in 2022 and how to take advantage of these price movements.
Why is cryptocurrency volatile?
The volatility of cryptocurrencies is an unavoidable factor in this market and an aspect that every cryptocurrency investor needs to face. There are various reasons for this. Firstly, they are new technologies, so they are more susceptible to bigger upward and downward movements due to limited knowledge by investors.
Furthermore, it is an unregulated market, so the price is exposed to a number of external conditions that can significantly impact its value. At the same time, cryptocurrency investments involve a significant speculative component, a trait that makes these assets more vulnerable to high market price volatility.
You must also bear in mind that the value of many cryptocurrencies depends on the price of Bitcoin, the benchmark cryptocurrency for the whole sector. Therefore, Bitcoin's volatility affects the entire crypto sector, so just a few important movements on this cryptocurrency increases price fluctuation on all the other cryptocurrencies. Another aspect is the high number of retail traders that invest on crypto assets, that is, investors that are more impulsive than professional traders.
The most volatile crypto in 2022
The most volatile cryptocurrency at the beginning of 2022 is Ethereum, the second global cryptocurrency by market cap after Bitcoin. The price of Ethereum has fallen more than 17% since the beginning of the year, with a drop of up to £1,779 on the 22nd of January, then rising to £2,648 on the 4th of April and then falling below £3,000 again.
Solana has also shown high volatility at the beginning of this year, with considerable price changes both upwards and downwards in recent months. Another very volatile cryptocurrency is Dogecoin, a meme-coin that is very susceptible to financial speculation and that has always been characterised by significant volatility. Suffice to say that in 2022 the price fluctuated between a maximum of £0.14 and a minimum of £0.085.
Bitcoin's volatility, on the other hand, has been more contained but quite high nonetheless. The market price in 2022 fluctuated between a maximum of £26,239 and a minimum of £25,872, with a range of over £10,000 in just four months. Many traders take advantage of this volatility to invest in cryptocurrencies with CFD trading, by opening and closing positions within a few hours or days and trying to follow the short-term upward and downward trends.
According to the Crypto Volatility Index (CVI), the crypto market's total volatility has decreased significantly over the last year but has shown heavy daily and weekly fluctuation. These movements don't gain favour with investors who prefer long-term investments, but they do offer opportunities to traders who know technical analysis and want to operate over very short-term time frames.
How to take advantage of cryptocurrencies' volatility
The large fluctuations in the price of cryptocurrencies are both a risk and an opportunity. If expert traders are able to take advantage of this extreme volatility to try to make a profit, then beginner traders can end up losing a lot of money by following the latest trends without very good hedging.
The most commonly used strategy is day trading, that is, opening and closing positions within the same day so as to avoid overnight costs. For the trade to be sustainable, you must know technical analysis well, have enough capital to cover your losses and try to close the activity when it has made a long-term profit.
In this regard, it's essential to properly set up stop losses, that is, orders that allow you to close the position if the price falls below a certain value in order to limit potential losses and avoid them being too high. You must also use professional trading indicators and plan efficient money and risk management strategies.
Alternatively, there are less volatile assets, such as Forex currencies, stock market shares, raw materials and indices. In this case, you can trade CFDs with FinecoBank in order to make use of modern desktop and mobile platforms with no minimum deposit and no fixed fees, just a spread applied to executed orders.
Information or views expressed should not be taken as any kind of recommendation or forecast. All trading involves risks, losses can exceed deposits.
CFDs are complex instruments and come with a high risk of losing money rapidly due to leverage. 63.13 % of retail investor accounts lose money when trading CFDs with this provider. You should consider whether you understand how CFDs work and whether you can afford to take the high risk of losing your money.
Before trading CFDs, please read carefully the Key Information Documents (KIDs) available on the website finecobank.co.uk
Fineco Newsroom is a compilation of articles written by our editorial partners. Fineco is not responsible for an article's content and its accuracy nor for the information contained in the online articles linked.
These articles are provided for information only, these are not intended to be personal recommendations on financial instruments, products or financial strategies.
If you're looking for this kind of information or support, you should seek advice from a qualified investment advisor.
Some of the articles you will find on the Newsroom feature data and information from past years. As per the very nature of the content we feature in this section of our website, some pieces of information provided might be not up to date and reliable anymore.
This advertising message is for promotional purposes only. To view all the terms and conditions for the advertised services, please refer to the fact sheets and documentation required under current regulations. All services require the client to open a Fineco current account. All products and services offered are dedicated to Fineco account.