How to invest in stocks: a complete guide for beginners
Content by Fineco's partner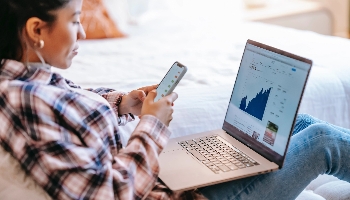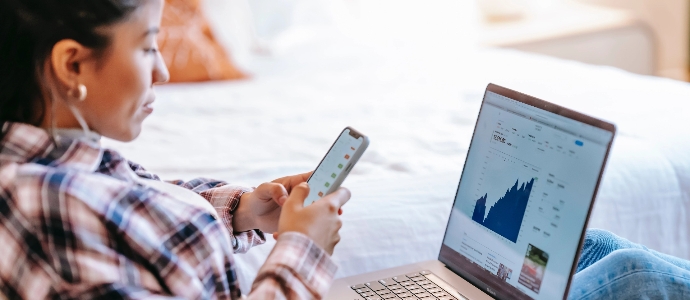 A guide for beginners to start investing in stocks. From choosing the intermediary to defining an investment strategy, discover some top tips from FinecoBank.
How to invest in stockshow much does it cost to invest in stockstrading
Most people start out investing in shares, which can be more straightforward assets for those who want to begin trading on the financial markets. Today, thanks to modern digital technologies, investing in shares has become more accessible and affordable.
In this guide, we look at how to invest in shares, with everything you need to know to take your first steps on the stock market as a beginner and the best ways to get started with stock trading and online trading.
How to invest in stocks for beginners
Before starting to invest, you must first be well informed about the basics of stock investments. It is important to understand what shares are, what factors influence share prices on the stock exchange and how to evaluate a share investment correctly.
An essential tool for investing in shares is financial analysis. In particular, it helps to understand how technical analysis, i.e. the study of share price trends through graphs and indicators, works. In this way, it is possible to discover the most interesting trends, make forecasts and plan a risk management strategy suited to your profile.
It may also help to learn fundamental analysis, i.e. the study of listed companies and the macroeconomic factors that influence a company's performance on the stock exchange. Through fundamental analysis, you learn how to read and interpret the financial statements of listed companies, an indispensable skill especially for those using the value investing approach.
At this point, it is possible to start investing in shares, following a few basic steps:
determine how to invest;
choose the intermediary;
define an investment strategy;
select the stocks to invest in.
Determining how to invest
The first time you start investing in shares, you need to determine how to invest. This investment style involves deciding on the level of risk, how much time you can devote to financial activity and the capital to be invested. Furthermore, you should decide whether to invest autonomously, rely on a financial adviser, or opt for an automated service such as a robo-adviser.
Choosing the intermediary
Your choice of intermediary is an important one. The company must be trustworthy and authorised, i.e. licensed in the UK and supervised by the Financial Conduct Authority (FCA) and the Bank of England. It is also necessary to assess the quality of the service offered by the bank or broker, the markets available, the financial analysis tools on offer, and the fees charged.
Defining an investment strategy
Having reached this point, it is necessary to create an investment strategy to invest in shares consciously with a level of risk appropriate to your needs. For example, those who prefer to trade in the short term and speculate on small changes in stock prices can choose stock trading, using derivative instruments such as Contracts for Difference (CFDs) to open positions on any price direction, either up or down.
Otherwise, those wishing to invest in stocks with long-term goals can create a stock portfolio, selecting the right stocks through fundamental analysis to see which companies are suitable to invest in. With long-term investments, it is also possible to try to make money from dividends by choosing companies that pay a dividend for additional annual returns.
Selecting stocks to invest in
The last step in investing in shares is the choice of assets. This is the most delicate part of the process, as the results you achieve depend on it. In this case, it is essential to have a strategy, defining rules for selecting stocks in line with the type of investments you want to make.
For example, an investor might decide to invest only in stocks with a certain P/E (Price/Earnings) ratio, or with a growth rate above a minimum threshold. Other useful indicators are dividend yield, net profit growth and share value growth relative to an industry average.
The stocks selected should be tailored to your risk tolerance, investment objectives and investment style. To reduce risk you can also adopt effective strategies, such as diversifying investments and protecting long-term positions with defensive short- and medium-term investments.
How much does it cost to invest in stocks?
Investing in shares involves costs, regardless of the intermediary chosen. Obviously, some companies offer lower costs and more convenient conditions, while others charge higher fees that may be less suitable for a beginner investor, who generally does not make many transactions and only invests a small amount of capital.
The costs to be considered when investing in shares are:
fixed commissions per trade;
spreads on executions in the case of stock trading;
fixed costs for access to the investment platform;
deposit and withdrawal costs.
A good investment service has affordable costs, with no exit fees and a cost calculated according to the value of the portfolio. In order to save costs, it is better to rely on brokers who handle a large number of orders, as they are able to offer more favourable rates with low commissions that make equity investments more sustainable.
How to invest in stocks online and manage your investments?
Nowadays, it is possible to invest in shares online in a simple and accessible way, taking advantage of lower costs and modern web platforms and mobile apps to manage your investments in a convenient, practical way. Once you have opened an investment account, you only need to access the broker's platform to start investing or download the app to your smartphone from where you can start trading on the stock exchange.
It is important to monitor your portfolio of securities, to check its performance and to see if changes need to be made. You may also wish to set limits to the extent securities can fluctuate before it is appropriate to intervene and close positions or change the distribution of securities in portfolios.
With FinecoBank you can invest online in shares at low prices, with the possibility of trading shares with CFDs or build a stock portfolio for the long term. In addition to modern investment platforms and apps, you can invest on all major stock markets, with thousands of UK, US and international shares, but also trade after hours on the NASDAQ. Furthermore, you can start investing with as little as £100, with a maximum platform fee of 0.25 per cent, and also invest automatically with Fineco's Regular Investment Plan on Funds or ETFs from as little as £50.
Information or views expressed should not be taken as any kind of recommendation or forecast. All trading involves risks, losses can exceed deposits.
CFDs are complex instruments and come with a high risk of losing money rapidly due to leverage. 63.13 % of retail investor accounts lose money when trading CFDs with this provider. You should consider whether you understand how CFDs work and whether you can afford to take the high risk of losing your money.
Before trading CFDs, please read carefully the Key Information Documents (KIDs) available on the website finecobank.co.uk
Fineco Newsroom is a compilation of articles written by our editorial partners. Fineco is not responsible for an article's content and its accuracy nor for the information contained in the online articles linked.
These articles are provided for information only, these are not intended to be personal recommendations on financial instruments, products or financial strategies.
If you're looking for this kind of information or support, you should seek advice from a qualified investment advisor.
Some of the articles you will find on the Newsroom feature data and information from past years. As per the very nature of the content we feature in this section of our website, some pieces of information provided might be not up to date and reliable anymore.
This advertising message is for promotional purposes only. To view all the terms and conditions for the advertised services, please refer to the fact sheets and documentation required under current regulations. All services require the client to open a Fineco current account. All products and services offered are dedicated to Fineco account.