Trading desk: what is it, and how does it work
Content by Fineco's partner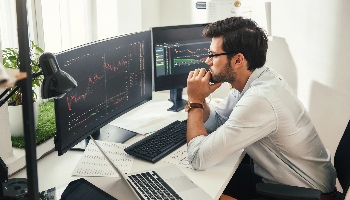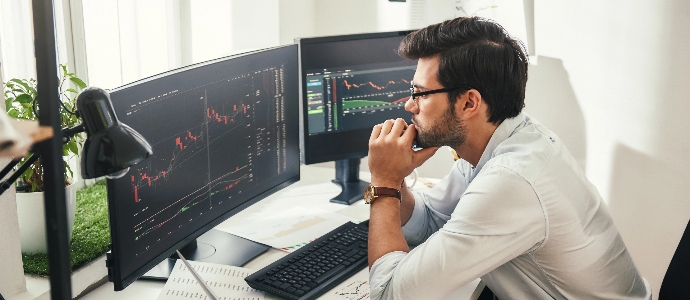 It's common to hear financial professionals talk about the trading desk or the dealing desk when it comes to placing orders on financial markets. But what exactly are these desks, and how do they work?
Trading deskDifferent trading deskTypes of trading desk
A trading desk, also known as a dealing desk, is a physical place where securities trading takes place. It's an actual space, usually found in a financial organisation like an investment bank, where the buying and selling happens. There are usually different trading desks in that space, each of which performs a specific function in handling financial transactions.
Let's take a closer look now at what a dealing desk is and how it works.
What is a dealing desk?
A dealing desk is a space where trading activities take place, in other words, where professionals carry out a series of financial transactions. There are usually different types of financial specialists at a dealing desk, each playing a specific role and dealing with a specific activity.
Depending on the size of a deal desk, the space can occupy an entire floor, in which case it is often called a trading floor. Or it may occupy just one room and be referred to as a trading room. Whatever its size, usually a trading desk is an open space with a number of workstations, where each professional has their own desk.
The workstations are generally subdivided according to each group of professionals' business sector. There may, for example, be dedicated areas for forex trading, reserved spaces for stock traders, and so on. The configuration of a dealing desk depends on the company running it. Each company will set up their space as it sees most efficient and useful for facilitating business.
Types of dealing desks
The most common types of dealing desks are:
Equity trading desk: a dealing desk that deals with all things equity, with a focus on equity investments, but can also extend to trading options and other derivative instruments.
Fixed-income trading desk: this is the department that deals with fixed-income investments, trading securities such as corporate bonds, government bonds and other types of bonds.
FX trading desk: this department handles currency trading, otherwise known forex investing.
Derivatives trading desk: this dealing desk specialises in speculative activity, trading through derivative instruments such as options, CFDs, futures and forwards.
Commodity trading desk: this department takes care of the trading of instruments related to physical assets such as gold, coffee and oil.
These are just the main types of trading desks and each type can then be subdivided into even more specialised departments. For example, fixed-income is a very large sector where it is quite common for the relevant dealing desk to be subdivided into specific departments covering government bonds, large corporate bonds and small cap corporate bonds.
How does a trading desk work?
Professional and authorised traders work at trading desks. These are specialists whose job it is to execute their client's orders. Clients can be the financial institutions that own the trading desk, or external clients such as asset management companies, institutional investors and other investment companies.
A trading desk doesn't just execute client orders. It's also common for analysis and research activities to be carried out at a trading desk to help identify the best investment opportunities and suggest them to clients and partners. A trading desk's profit is related to the commission charged on its orders. For each trade a dealing desk charges a fee on the transaction that the client pays to use the service.
A dealing desk has direct access to the market, so other parties such as hedge funds and institutional investors use its service to place their orders. This makes it an outsourced service to which external investors can turn to delegate the execution of their investment orders.
Technological innovation has made it possible to reduce the number of professionals needed to operate a dealing desk. In the past dozens of traders would work at a dealing desk but today, as many operations are automated, it's common for facilities to have a team of less than ten traders.
Information or views expressed should not be taken as any kind of recommendation or forecast. All trading involves risks, losses can exceed deposits.
CFDs are complex instruments and come with a high risk of losing money rapidly due to leverage. 63.13 % of retail investor accounts lose money when trading CFDs with this provider. You should consider whether you understand how CFDs work and whether you can afford to take the high risk of losing your money.
Before trading CFDs, please read carefully the Key Information Documents (KIDs) available on the website finecobank.co.uk
Fineco Newsroom is a compilation of articles written by our editorial partners. Fineco is not responsible for an article's content and its accuracy nor for the information contained in the online articles linked.
These articles are provided for information only, these are not intended to be personal recommendations on financial instruments, products or financial strategies.
If you're looking for this kind of information or support, you should seek advice from a qualified investment advisor.
Some of the articles you will find on the Newsroom feature data and information from past years. As per the very nature of the content we feature in this section of our website, some pieces of information provided might be not up to date and reliable anymore.
This advertising message is for promotional purposes only. To view all the terms and conditions for the advertised services, please refer to the fact sheets and documentation required under current regulations. All services require the client to open a Fineco current account. All products and services offered are dedicated to Fineco account.