What are stock CFDs?
CFD stands for Contracts for Difference, which are derivative financial instruments that allow you to invest in shares without owning them, speculating on price variations and capitalising on price movements in any direction.
Advantages of stock CFD trading
Unlike investing in stocks, when you trade Share CFDs, you are not buying or trading the underlying asset. What you are buying is a contract between yourself and the CFD provider. This situation offers quite a few benefits:
No fixed commission and no spread applied by Fineco on FTSE100, US and EU share CFDs to make it more affordable to invest in that stock markets 1.
You only need a small amount of capital: thanks to the leverage effect you can get full market exposure using only a percentage of the value of the position.
With the technical analysis, you can study the dynamics of the share prices through charts in order to identify the opportunities and develop customised strategies in a simple and intuitive way.
You can invest in many of the world's most prestigious listed companies directly by buying shares and trading long or short on their performance anytime anywhere.
Stocks vs Stock CFDs
Key differences between trading an underlying asset and a CFD.
| | Leverage | Fees | Spread | Stamp duty/UK Shares |
| --- | --- | --- | --- | --- |
| Stocks | NO | YES | NO | YES |
| Stock CFDs | YES | NO | NO | NO |
Worldwide Stock CFDs
Trade stocks in the UK, the US and in leading European markets like Germany, Italy and France. Now you can: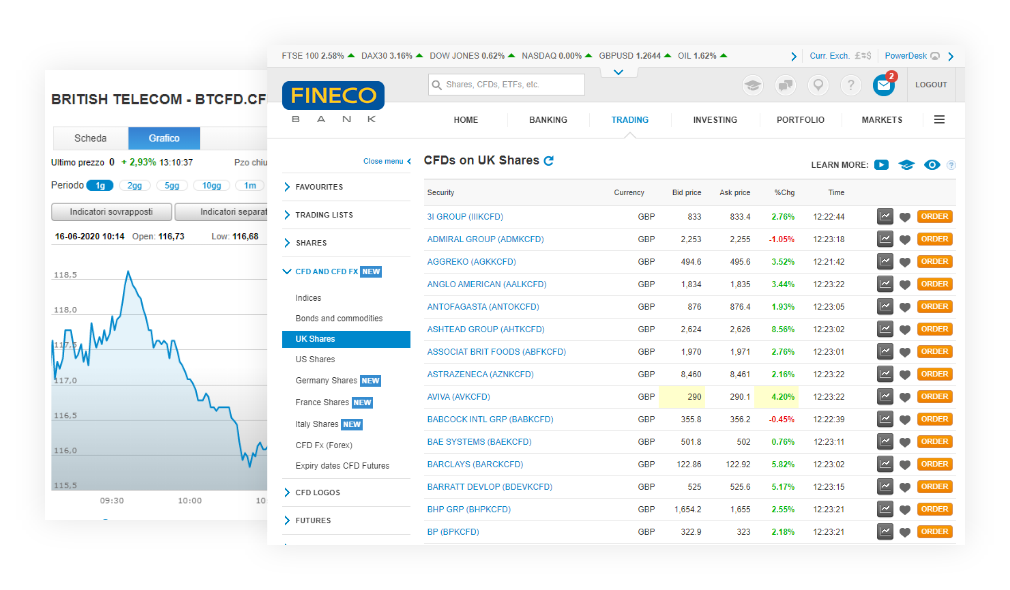 Trade FTSE 250 stock CFDs long and short, with leverage, automatic orders and no stamp duty or market commission. Trade long or short and with leverage and no market commission shares of all the world's major listed companies, such as Unilever Group, Royal Dutch Shell, Ferrari, Allianz, Apple, Amazon, Google, LVMH, Airbus and many more.
How Does Shares CFD Trading Work?
With CFDs, you can day trade, opening and closing positions quickly within the same trade day without paying commission (Overnight position charges apply based on value and duration. 0,06% markup per side on FTSE250 share CFDs.) or fixed deposit or security fees. All you need to identify investment opportunities is the technical analysis, where you can study price charts and create bespoke strategies. Shares CFD trading is also a useful way to diversify and manage your risk better, covering potential drops in prices of the shares in your portfolio.
Shares CFDs commissions and markup
£0.00
Get real stock prices when trading FTSE100, US and EU shares CFDs, no added spread applied by Fineco.
Professional tools
Explore our powerful suite of trading platforms and find the tools and features you need to suit your trading.
charts and technical analysis
All the essential tools for technical analysis and studying Interactive charts.
Real-time quotes and push book
Constant access to free quotes, real-time order books and detailed charts.
News and Insight
The latest and constantly updated news from the financial markets and the most reliable trading insights.
Automatic and conditional orders
Protect your investments with automatic and conditional orders, Stop Loss, Take Profit and Trailing Stop orders.
Free real-time market data
Free financial market data at your disposal in real-time.
Leverage and margins
Use leverage to optimise your investments and improve your results.
Trading Shares CFDs with Fineco: what are the advantages?
Thousands of shares to invest in
With Fineco, you have thousands of shares to trade with CFDs, to diversify your investments and choose your preferred companies listed in the UK and the rest of the world.
Margins and leverage
Thanks to the competitive margins, you can invest with just a small deposit, using leverage to improve your results using a small amount of capital.
Invest in any situation
With CFDs, you can always find opportunities to invest in shares, even when the price drops and in the most volatile times.
Security and innovation
With Fineco, you can count on advanced tools and the experience of a player that has been in the industry for over 20 years, always at the forefront of technological innovation to offer modern solutions to the most discerning traders.
FAQ
With Fineco you can invest in thousands of international shares: UK shares (FTSE 100 and FTSE 250), USA shares (DJ, S&P, Nasdaq) and Germany, France and Italy main index shares.
Trading on CFDs with underlying shares you can speculate on price variations and capitalise on price movements in any direction of publicly listed companies traded on exchanges, without the need to own the underlying stocks.
You can also increase your market exposure through leverage (or margin). In this way you can enhance your capital, needing only a fraction of the total trade value.
With our Stock Screener you can easily search for one or more companies among those tradable online with Fineco, setting your own search criteria or using our Search ideas (packages of pre-composed filters based on certain characteristics).
There are no monthly fees to maintain a Fineco account. Create your account now and explore our trading platforms.
This advertising message is for promotional purposes only. To view all the terms and conditions for the advertised services, please refer to the fact sheets and documentation required under current regulations. All services require the client to open a Fineco current account. All products and services offered are dedicated to Fineco account.
Derivatives trading is available to clients following the assessment of their knowledge and experience of derivative instruments and the subscription of the Derivative Trading Contract.
Before trading CFDs, or other derivatives instruments please read carefully the Key Information Documents (KIDs) available on the website finecobank.co.uk
A CFD is a financial derivative, that you can buy or sell with FinecoBank as your direct counterparty. Its value is directly related to that of an underlying asset (securities, indices, currencies, futures on bonds, futures on volatility indicators and futures on commodities) and consequently follows the price movement of the underlying asset. In particular, when CFDs trading your profit/loss is given by the difference in value between the opening price and the subsequent closing price of the contract. The opening price and the closing price are determined by the Bank applying, if appropriate, a mark-up or a spread on the underlying price to the extent indicated by the economic conditions at the time. CFDs are characterised by a strong leverage effect. This means that a relatively small price movement in the underlying market will have a proportionally higher impact on the value of your margined position and an unfavourable price movement may result in losses exceeding your initial margin deposit (increasing underlying price for short positions, decreasing for long positions). CFD Positions open for more than one business day (overnight) are subject to a multi-day position fee.
The spreads applied to CFDs may be changed at any time within the contractually agreed limits.
CFDs are complex instruments and come with a high risk of losing money rapidly due to leverage. 63.13 % of retail investor accounts lose money when trading CFDs with this provider. You should consider whether you understand how CFDs work and whether you can afford to take the high risk of losing your money.
Before trading CFDs, please read carefully the Key Information Documents (KIDs) available on the website finecobank.co.uk
Before trading CFDs, please read carefully the Key Information Documents (KIDs) available on the website finecobank.com/uk
Sources: Where not expressly indicated, sources are taken from internal FinecoBank processing.
Multi-currency is a multi-currency service ancillary to the euro bank account. It allows debiting and/or crediting transactions in the service currencies and is necessary for some online trading services involving financial products in currencies other than the euro.
A currency exchange transaction is subject to foreign exchange risk, i.e., the possibility that the purchased currency may depreciate against the reference currency.
1 Activation of the service is free, however a spread is applied to the exchange rate (Currency Exchange) to the extent indicated in the fact sheets.
2 It is possible to arrange transfers only in the currency of the account the transaction is sent from. For example, from the GBP account you can only make transfers in GBP.
Please note that to trade on foreign markets it is necessary to apply online to enable individual markets in your personal area of the Fineco website: Home page » Account Management » Managing Services » Trading and investments » Multicurrency
Futures are derivative financial instruments whose value is directly linked to that of the underlying asset and therefore follows its trend. Derivative financial instruments are characterised by a leverage effect: this means that a relatively small movement in the market prices of the underlying asset will have a proportionately higher impact on the margin which, in the event of an unfavourable movement with respect to the customer's position (underlying price increase for short positions, decrease for long positions) may be entirely lost.
Derivative transactions therefore involve a high degree of risk, and if the market shifts strongly negative the loss can also exceed the capital initially invested (margin). Before trading derivative financial instruments please carefully read the key information documents (KIDs) available on the website finecobank.co.uk
Transactions in derivative financial instruments and margin lending are reserved for Fineco customers who are authorised to operate through the completion of special questionnaires and the signing of the required contractual documentation. All products and services offered are dedicated to Fineco account holders.
* With Fineco, you can trade FX CFDs from 22:15 on Sundays to 22:00 on Fridays (with the exception of the interval from 22:00 to 22:15).: you can buy and sell currencies with a quick order when the quotes are most favourable, day or night.
Free live quotes and real-time news: specifically US, UK and Italian live quotes and real-time news.
Sources: Where not expressly indicated, sources are taken from internal FinecoBank processing.
** FinecoBank S.p.A. - Registered Office Piazza Durante 11, Milan 20131 - Headquarters Via Rivoluzione d'Ottobre 16, Reggio Emilia 42123 - Share capital €201,508,439.55 subscribed and paid-in - Bank enrolled in the Register of Banks and Parent Company of the FinecoBank Banking Group – enrolled in the Register of Banking Groups at No. 3015 - VAT No. 12962340159 - Tax ID No. and Milan-Monza-Brianza-Lodi Companies Register No. 01392970404 - Economic and Administrative Index (REA) No. 1598155 - Member of the National Compensation Fund and the National Interbank Deposit Guarantee Fund. Fineco Bank is a trademark licensed for use by FinecoBank S.p.A., authorised and regulated by the Bank of Italy and Consob (Italian Market Regulator). Deemed authorised by the Prudential Regulation Authority. Subject to regulation by the Financial Conduct Authority and limited regulation by the Prudential Regulation Authority. The nature and extent of consumer protections may differ from those for firms based in the UK. Details of the Temporary Permissions Regime, which allows EEA-based firms to operate in the UK for a limited period while seeking full authorisation, are available on the Financial Conduct Authority's website. - PEC: finecobankspa.pec@actaliscertymail.it