What is a trading set up?
Content by Fineco's partner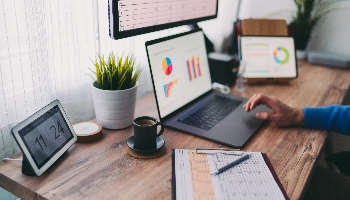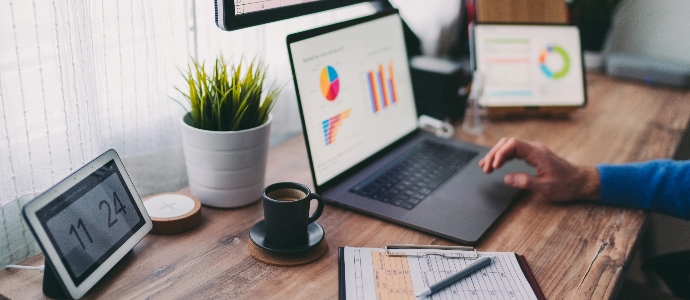 What is trading set-up? And how to set up trading screens for the first time? Discover more on Fineco Newsroom.
Trading setupHow to use trading setupTrading
How to use a trading setup
The term trading setup can have two meanings in the world of finance.
The first meaning is conceptual and refers to basic conditions that need to be present for you to consider a trade. For instance, if you are a breakout trader, a trading setup would be the presence of a breakout (when a security price breaks out of a range within which it has been oscillating for some time). But "trading setup" also refers to the physical configuration of hardware and software components you need in order to trade successfully. This article focuses on the latter meaning of trading setup.
What is a trading setup?
A trading setup is essentially your workstation as a trader. There is no universally ideal trading setup; the best setup will vary based on trading style, level of experience, and the lifestyle you want to lead as a trader. Here are the different components of trading setups to help you assemble to the configuration that works best for you:
Furniture. If you are an intensive trader who spends hours a day in front of your display, you need to give thought to the ergonomics of your workstation to ensure your trading activity is sustainable for your body. Many full-time traders are proponents of a standing desk setup.
Computer. When it comes to this component, you have two main choices: a desktop or laptop computer. Desktops can be customized and upgraded more easily, while laptops obviously afford more portability.
Computer specs. Your trading computer will ideally have a solid-state drive (SSD), helping it to boot faster and not overheat, as well as at least 16 GB of RAM. You can think of RAM as a computer's short-term memory, and having good RAM is key for running the multiple simultaneous processes of an active trading style. You should also pay attention to the speed of the CPU, which should be over 2.8 GHz, with multiple cores. If you are planning to run multiple displays, your stock graphics card probably won't cut it, and you'll need to look for an upgrade (with 2 GB or more of GPU).
Monitors. You may have seen images of entire walls of monitors that people use for their trading setup. While this may seem glamorous, it is better to allocate monitor space according to your needs. Think of the different tickers, charts, chats, and other windows you plan to watch simultaneously as you plan your display space.
Accessories. Especially if you decide that a laptop is better suited to your needs, you may need some extras like an additional power supply, a fan to keep your machine cool, a portable USB monitor, and/or a portable monitor stand.
Internet connection. It doesn't matter how fast your computer is if your internet speed drags. A fast connection is key in high-paced world of day trading.
Personalizing your trading setup
As you make choices about your trading setup, ask yourself key questions: What kind of trading will I be doing? If your style is very fast (e.g. scalping), you'll probably need cutting-edge equipment, while if you're a swing trader with a more relaxed style, your equipment will not be as much of a deciding factor.
You should also evaluate your personal limits for focus and multitasking. How many stocks can you actually watch at the same time? Would four or five monitors stretch you too thin? Some traders make the case that just using a laptop can help keep you from overtrading while also giving you more mobility.
How to use a trading setup?
Once again, the way you actually use your physical setup to execute trades will depends on your trading style.
Most traders will have a few different tickers open, as well as charts with different time frames for those tickers. A scalper or day trader might want the 5 minute, 15 minute and hourly time frames open for the stocks they are watching. Meanwhile, a swing trader will probably have 15-minute through daily time frames open. Some traders make the mistake of opening too many charts and not enough tickers.
It is also best to have a few reference charts open to give you an overview of the market. Examples include the S&P 500 futures, gold, oil, Apple, the NASDAQ. If you trade the news, you'll want a news stream open. The combinations are virtually endless, so the best approach is to first plan your strategy, including which technical indicators you will use, and build your setup to facilitate the successful execution of your plan.
Information or views expressed should not be taken as any kind of recommendation or forecast. All trading involves risks, losses can exceed deposits.
CFDs are complex instruments and come with a high risk of losing money rapidly due to leverage. 63.13 % of retail investor accounts lose money when trading CFDs with this provider. You should consider whether you understand how CFDs work and whether you can afford to take the high risk of losing your money.
Before trading CFDs, please read carefully the Key Information Documents (KIDs) available on the website finecobank.co.uk
Fineco Newsroom is a compilation of articles written by our editorial partners. Fineco is not responsible for an article's content and its accuracy nor for the information contained in the online articles linked.
These articles are provided for information only, these are not intended to be personal recommendations on financial instruments, products or financial strategies.
If you're looking for this kind of information or support, you should seek advice from a qualified investment advisor.
Some of the articles you will find on the Newsroom feature data and information from past years. As per the very nature of the content we feature in this section of our website, some pieces of information provided might be not up to date and reliable anymore.
This advertising message is for promotional purposes only. To view all the terms and conditions for the advertised services, please refer to the fact sheets and documentation required under current regulations. All services require the client to open a Fineco current account. All products and services offered are dedicated to Fineco account.