The renewable energy revolution
Content by Fineco's partner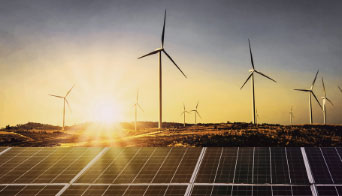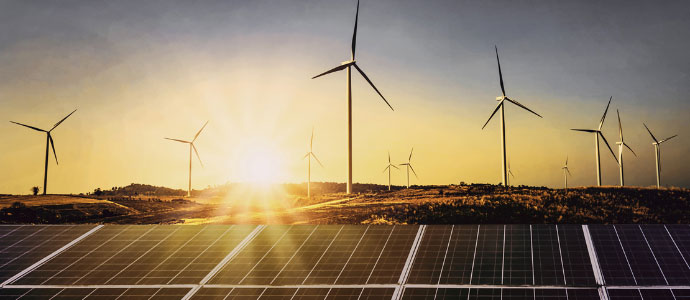 Climate change is an increasing priority for policymakers and regulators, with Joe Biden leading the way as US president. There are clear trading opportunities for renewables, but fossil fuel providers still have a role to play too.
Renewable energy Climate change Fossil fuels Exchange-traded funds (ETFs)
The pandemic has forced a reappraisal of our relationship with the planet. Of the trillions deployed to shore up the global economy, there has been a recognition among policymakers that it cannot be spent rebuilding the world as it was before. Instead, a more sustainable model of economic growth is needed.
Global priorities
The first priority has been to reduce global dependence on fossil fuels. Particularly notable are the shifting priorities in the US, where President Joe Biden rejoined the Paris Climate Agreement immediately on taking office, while also convening a climate world summit to push for more ambitious national pledges on the environment. He has also promised investment of $400bn over ten years in clean energy and innovation.
Similar commitments are being made in Europe. Under the European Green Deal, the European Commission has pledged to reduce greenhouse gas emissions by at least 55% (from 1990 levels) by 2030. It wants to ensure a minimum of a third of the region's energy is provided by renewables, alongside a 32.5% improvement in energy efficiency.
The direction of travel is clear: fossil fuels will see increasing regulation, while infrastructure development and subsidies will encourage the broader adoption of renewables. This is the energy transition.
Where are the opportunities for traders and investors?
This gives real momentum to the renewable energy sector. Companies that are directly involved in renewable energy – such as wind or solar energy providers – have strong regulatory and financial support, as do ancillary companies such as those employed in energy efficiency. Many of the largest and most highly traded companies are based outside the UK, so it pays to look globally.
There will also be opportunities in sectors seeing significant impact from the switch to renewables. For example, the car industry has been in the line of fire. The UK plans to ban petrol and diesel cars from 2030 and other countries are likely to follow suit. This is likely to have a profound impact on the auto manufacturers, which were already facing competition from US electric car makers. Many have had to re-engineer their production lines to ensure they can deliver electric cars competitively.
Other energy-dependent industries include aviation, bulk chemicals and mining. Each of these industries will be pushed to adopt new processes as part of the transition.
Commodities play an important part in the move to clean energy
There are a broad range of commodities involved in the transition to clean energy. For example, lithium is a vital component in electric car batteries. Copper plays an important role in renewable energy solutions, including solar, wind and hydro, while also improving energy efficiency and helping to create smart grids. Nickel, cobalt and chromium are also commodities used in the energy transition. Investors can either trade the commodities directly, or via mining companies specialising in the individual commodity.
Fossil fuel companies still have a role to play
Traders may also be able to play the energy transition through the legacy oil and gas businesses, plus commodity trading in fossil fuels (oil, coal and so on). It is clear that these are progressively becoming obsolete industries. However, demand for fossil fuels will not disappear overnight and many traditional energy companies, sensing the threat to their business, are leading the way on renewables innovation. As such, it isn't simply a case of shorting the oil majors on the basis that their products are no longer needed. Traders need to balance the price versus the pace of obsolescence.
This pricing consideration is a more general risk for traders looking at renewables. The energy transition has been well-flagged and few are unaware of the dangers of climate change. As such, the renewables sector is attracting significant investment flows. In 2020, stocks involved in renewable energy were among the best performing; the Renewable Energy Industrial Index (RENIXX) is up around 2.5x over the past 12 months. As such, this may mean the direction of travel for share prices is not clear cut. In fact, if there are setbacks, these companies may see their share prices struggle.
The role of ETFs
For traders looking at renewables, exchange traded funds (ETFs) offer a range of options. There are a number of clean energy ETFs available. One of the largest is the iShares Global Clean Energy ETF, which invests in 30 clean energy stocks; its largest holdings include Plug Power, Enphase Energy, Xinyi Solar Holdings Ltd and Meridian Energy. There are also lithium and battery technology ETFs, plus copper and copper mining ETFs.
Climate change is a global emergency. It is likely to see significant attention from policymakers and regulators over the next decade, highlighting those companies that appear to offer solutions and offering a range of opportunities for traders.
Whit the Fineco trading platform you can access the tools, resources and instruments you need to take advantage of these opportunities. You can trade across 26 global markets through one multi-currency account, complete with a clear, fair pricing structure.
Information or views expressed should not be taken as any kind of recommendation or forecast. All trading involves risks, losses can exceed deposits.
CFDs are complex instruments and come with a high risk of losing money rapidly due to leverage. 63.13 % of retail investor accounts lose money when trading CFDs with this provider. You should consider whether you understand how CFDs work and whether you can afford to take the high risk of losing your money.
Before trading CFDs, please read carefully the Key Information Documents (KIDs) available on the website finecobank.co.uk
Fineco Newsroom is a compilation of articles written by our editorial partners. Fineco is not responsible for an article's content and its accuracy nor for the information contained in the online articles linked.
These articles are provided for information only, these are not intended to be personal recommendations on financial instruments, products or financial strategies.
If you're looking for this kind of information or support, you should seek advice from a qualified investment advisor.
Some of the articles you will find on the Newsroom feature data and information from past years. As per the very nature of the content we feature in this section of our website, some pieces of information provided might be not up to date and reliable anymore.
This advertising message is for promotional purposes only. To view all the terms and conditions for the advertised services, please refer to the fact sheets and documentation required under current regulations. All services require the client to open a Fineco current account. All products and services offered are dedicated to Fineco account.